Do you enjoy reading about fashion? In this section you will find a nice collection of fashion articles for your enjoyment. We hope that you like clothing and accessories as much as we do. In this fashion news section you will find many interesting articles regarding clothing designers, boutiques, fashion events, trends spotting, and much more.

Subscribe to RSS headline updates from:
Powered by FeedBurner
Here you will find a few style articles from our Fashion Blogger site.
Read the latest Fashion industry articles. Fashion articles with details on the latest business trends and opportunities. Get the latest fashion week coverage, shopping guides, and fashion trends from the editors of Apparel Search.

October 2012 - The Apparel Search Company has decided to start posting our news articles at the Fashion Blogger website (FashionBlogger.org). Later, we decided to also post on our fashion blog at https://www.blog.apparelsearch.com/

Below, you will find some of our previous articles. Above, you will find the most current fashion articles our fashion blogs.

Eyola and Femme De Rose Bespoke Blazers
Fashion Article Posted September 28, 2012

Deluxe Knitted Scarves from Votary
Fashion Article Posted September 22, 2012

Pontos S Watch Viral Launch Campaign by Maurice Lacroix Wins Awards
Fashion Article Posted September 21, 2012

Jade Dockary Australia Launch at Vendome Luxury 18
Fashion Article Posted September 19, 2012

Ginch Gonch Underwear
Fashion Blogger Post September 19, 2012

Rita Ora Wearing Jean Paul Gaultier with Jay-Z and Beyonce at Festival
Fashion Article Posted September 17, 2012

Jean Paul Gaultier Worn by Rita Ora
Fashion Blogger Post September 12, 2012

Melissa Gorga New Jersey Housewive Wearing Donna Mizani
Fashion Blog September 12, 2012

Ascena Names to Fortune Magazines Fastest Growing List
Fashion Newspaper Blog Post September 12, 2012

Marchesa Spring 2013 Fashion Show
Fashion Blogger Post September 11, 2012

Eva Longoria Going Door to Door
Apparel Search Blog Post September 11, 2012

GenArt Fresh Fashion Designer Faces Spring 2013
Fashion Blogger Post September 10, 2012

Introducing Gwen Beloti
Fashion Blogger Post September 10, 2012

Alexa Chung Wears Moschino Strapless Dress
Apparel Magazine Blog Post September 8, 2012

Aruba and Antiqua Moccasins: 2568 Shoes Collection
Fashion Article Posted September 6, 2012

Holland Roden Wearing Ellelauri Mesh Cut Out
Fashion Industry Blog September 4, 2012

Project Runway Collection at Lord & Taylor
Fashion Blogger September 4, 2012

Isla Fisher Wearing Level 99 at LAX Airport
Apparel Magazine Blog Post September 2012

Gala Gonzalez at Venice Film Festival
Apparel Search Blog September 4, 2012

White House Black Market: Fall 2012 Campaign
Fashion Blogger Post August 29, 2012

Hollywood Stars Donating Kids Clothes
Fashion Blogger Post August 28, 2012

Bridal Jewelry Info-Graphic Flowchart
Fashion Blogger Post August 28, 2012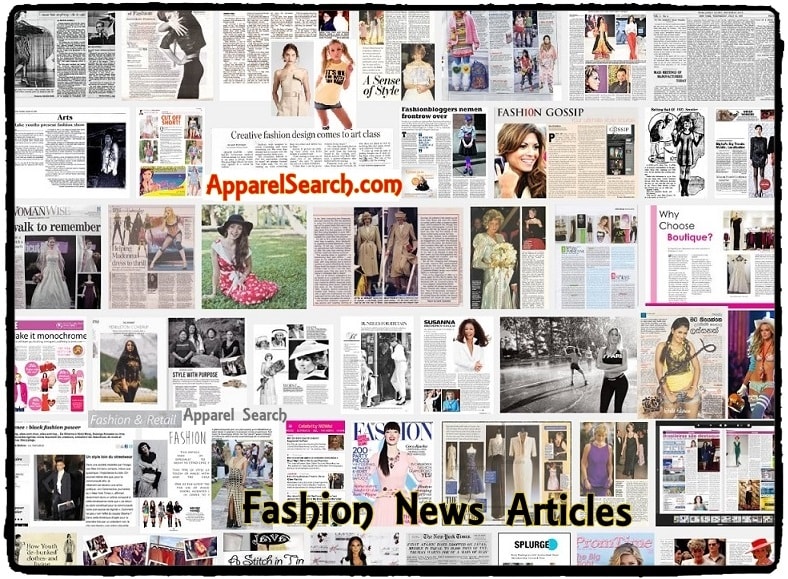 View more fashion articles from the Fashion Article Archive